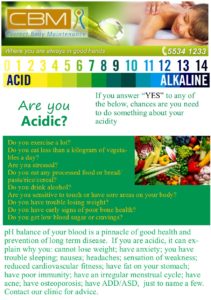 If you answer Yes to the following, chances are that you are acidic:
Do you exercise a lot?
Do you eat less than a kilogram of vegetables a day?
Are you stressed?
Do you eat any processed food or bread/pasta/rice/cereal?
Do you drink alcohol?
Do you have trouble losing weight?
Are you sensitive to touch or get sore muscles?
Do you have early signs of poor bone health?
Do you get low blood sugar or cravings?