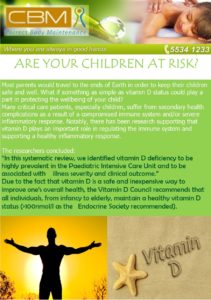 Most parents would travel to the ends of Earth in order to keep their children safe and well. What if something as simple as vitamin D status could play a part in protecting the wellbeing of your child?
Many critical care patients, especially children, suffer from secondary health complications as a result of a compromised immune system and/or severe  inflammatory response. Notably, there has been research supporting that   vitamin D plays an important role in regulating the immune system and    supporting a healthy inflammatory response.
The researchers concluded:
"In this systematic review, we identified vitamin D deficiency to be   highly prevalent in the Paediatric Intensive Care Unit and to be  associated with  illness severity and clinical outcome."
Due to the fact that vitamin D is a safe and inexpensive way to  improve one's overall health, the Vitamin D Council recommends that all individuals, from infancy to elderly, maintain a healthy vitamin D status (>100nmol/l as the   Endocrine Society recommended).