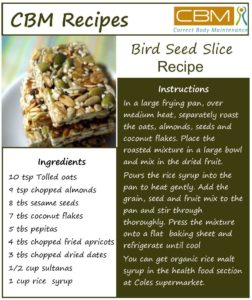 Bird Seed Slice
Ingredients
10 tsp Tolled oats
9 tsp chopped almonds
8 tbs sesame seeds
7 tbs coconut flakes
5 tbs pepitas
4 tbs chopped fried apricots
3 tbs chopped dried dates
1/2 cup sultanas
1 cup rice  syrup
Instructions
In a large frying pan, over medium heat, separately roast the oats, almonds, seeds and coconut flakes. Place the roasted mixture in a large bowl and mix in the dried fruit.
Pours the rice syrup into the pan to heat gently. Add the grain, seed and fruit mix to the pan and stir through thoroughly. Press the mixture onto a flat  baking sheet and refrigerate until cool
You can get organic rice malt syrup in the health food section at Coles supermarket.