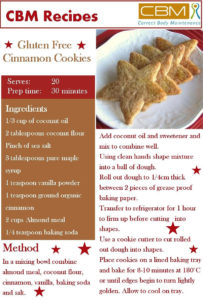 Try these yummy, healthy cookies for a gluten free recipe this Christmas.
One teaspoon of cinnamon contains a massive 22% of the daily recommended value in manganese.What does manganese do for you? Manganese is a trace mineral that assists the body to form strong bones, connective tissues, and sex hormones, and coagulates the blood properly. It helps metabolise fat and carbohydrates, regulates blood sugar, absorb calcium, and is essential for optimal brain and nerve function. It also helps neutralize free radicals that can damage cell membranes and DNA and proper levels of manganese have been linked to the prevention of diabetes,
Ingredients
1/3 cup of coconut oil
2 tablespoons coconut flour
Pinch of sea salt
3 tablespoons pure maple syrup
1 teaspoon vanilla powder
1 teaspoon ground organic cinnamon
2 cups Almond meal
1/4 teaspoon baking soda
Add coconut oil and sweetener and mix to combine well.
Using clean hands shape mixture into a ball of dough.
Roll out dough to 1/4cm thick       between 2 pieces of grease proof baking paper.
Transfer to refrigerator for 1 hour to firm up before cutting into shapes.
Use a cookie cutter to cut rolled out dough into shapes.
Place cookies on a lined baking tray and bake for 8-10 minutes at 180°C or until edges begin to turn lightly golden. Allow to cool on tray.