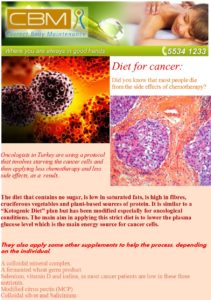 Diet for cancer:
Did you know that most people die from the side effects of chemotherapy?
Oncologists in Turkey are using a protocol that involves starving the cancer cells and then applying less chemotherapy and less side effects, as a result..
The diet that contains no sugar, is low in saturated fats, is high in fibres, cruciferous vegetables and plant-based sources of protein. It is similar to a "Ketogenic Diet" plan but has been modified especially for oncological  conditions. The main aim in applying this strict diet is to lower the plasma glucose level which is the main energy source for cancer cells.
They also apply some other supplements to help the process, depending on the individual.
A colloidal mineral complex.
A fermented wheat germ product.
Selenium, vitamin D and iodine, as most cancer patients are low in these three nutrients.
Modified citrus pectin (MCP)
Colloidal silver and Salicinium