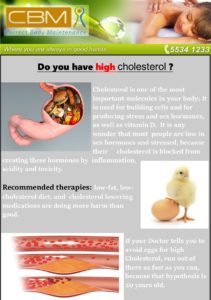 Do you have high cholesterol?
Cholesterol is one of the most important molecules in your body; it is used for building cells and for producing stress and sex hormones, as well as vitamin D.  It is any wonder that most  people are low in sex hormones and stressed, because their cholesterol is blocked from creating these hormones by  inflammation, acidity and toxicity.
 Recommended therapies: low-fat, low-cholesterol diet, and  cholesterol lowering  medications are doing more harm than good.
If your Doctor tells you to avoid eggs for high Cholesterol, run out of there as fast as you can, because that hypothesis is 20 years old.