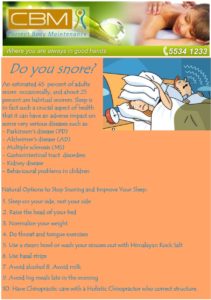 Do you snore?
An estimated 45  percent of adults snore  occasionally, and about 25   percent are habitual snorers. Sleep is   in fact such a crucial aspect of health that it can have an adverse impact on some very serious diseases such as:  
– Parkinson's disease (PD)
– Alzheimer's disease (AD)
– Multiple sclerosis (MS)
– Gastrointestinal tract  disorders
– Kidney disease
– Behavioural problems in children
Natural Options to Stop Snoring and Improve Your Sleep:
Sleep on your side, not your side
Raise the head of your bed
Normalize your weight
Do throat and tongue exercises
Use a steam bowl or wash your sinuses out with Himalayan Rock Salt
Use basal strips
Avoid alcohol 8. Avoid milk
Avoid big meals late in the evening
Have Chiropractic care with a Holistic Chiropractor who correct structure.