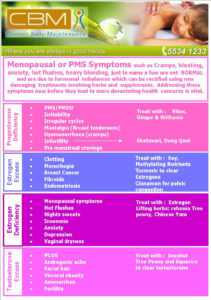 Menopausal or PMS Symptoms such as Cramps, bloating, anxiety, hot flushes, heavy bleeding, just to name a few are not  NORMAL and are due to hormonal  imbalances which can be rectified using non damaging  treatments involving herbs and  supplements.  Addressing these symptoms now before they lead to more devastating health  concerns is vital. Read on to discover which herbs could help you live a happier healthier life. Please ensure you consult a qualified healthcare practitioner, products available at our clinic health food store.

Signs of Progesterone deficiency
PMS/PMDD
Irritability                                                           Treat with :    Vitex,  Ginger & Withania
Irregular cycles
Mastalgia (Breast tenderness)
Dysmenorrhoea (cramps)
Infertility                                                            Treat with, shatavari, DongQuai
Pre menstrual cravings
Heavy periods
Signs of Estrogen excess
Clotting
Menorhegia
Breast Cancer
Fibroids
Endometriosis
 Treat with :  Soy,  Methylating Nutrients, Turmeric to clear Estrogens
Cinnamon for pelvic congestion
 Estrogen Deficiency
Menopausal symptoms
Hot Flushes
Nights sweats
Insomnia
Anxiety
Depression
Vaginal dryness
Low libido                                                                                                                         Treat with :  Estrogen Lifting herbs: rehania Tree peony, Chinese Yam.
Testosterone excess
PCOS
Androgenic ache
Facial hair
Visceral obesity
Amenorrhea
Fertility
Treat with :  Inositol Tree Peony and liquorice to clear testosterone