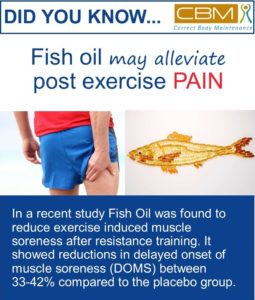 Fish oil is on special for the month of November. Omega-3 rich fish oil has wide ranging health benefits have been repeatedly proven, and animal-based omega-3 fats are one of the few supplements recommended for virtually everyone to improve overall health. Most people are seriously deficient in omega-3 fats!
If you have a deficiency you may have some of the following symptoms:  cravings for sweet food,  poor concentration, Dry, itchy scaly skin, Dandruff and/or hair loss, Reproductive difficulties, Gastrointestinal disturbances, Food intolerances, Weakness or pain, irritability, learning issues, allergies, Psychological disturbances, Poor cognition, cracked skin, hyperactivity, fatigue and poor wound healing.
The best omegas are Animal Based Omegas: The longer-chain forms of omega-3 are found mostly in animals and they are eicosapentaenoic and docosahexaenoic acids (EPA and DHA) and are highly unsaturated, mainly found in fish, shellfish and krill. Ask at reception for the Fish oil which best suits your needs.