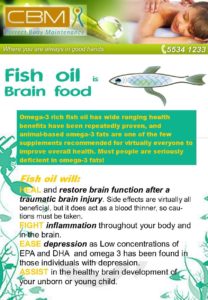 Omega-3 rich fish oil has wide ranging health benefits have been repeatedly proven, and            animal-based omega-3 fats are one of the few supplements recommended for virtually everyone to improve overall health. Most people are seriously deficient in omega-3 fats!
Fish oil may:
HEAL and restore brain function after a traumatic brain injury. Side effects are virtually all beneficial, but it does act as a blood thinner, so cautions must be taken.
FIGHT inflammation throughout your body and in the brain.
EASE depression as Low concentrations of EPA and DHA  and omega 3 has been found in those individuals with depression.
ASSIST in the healthy brain development of your unborn or young child.
Fish oil is on special this month, so visit our clinic to get the fish oil that best suits your specific needs.