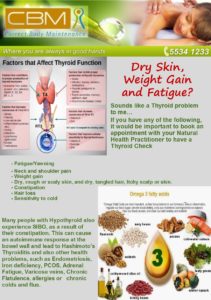 Sounds like a Thyroid problem to me…
If you have any of the following, it would be important to book an appointment with your Natural Health Practitioner to have a Thyroid Check
– Fatigue/Yawning
– Neck and shoulder pain
– Weight gain
– Dry, rough or scaly skin, and dry, tangled hair, Itchy scalp or skin.
– Constipation
– Hair loss 
– Sensitivity to cold
Many people with Hypothyroid also  experience SIBO, as a result of their constipation. This can cause an autoimmune response at the bowel wall and lead to Hashimoto's Thyroiditis and also other health problems, such as Endometriosis, Iron deficiency, PCOS, Adrenal Fatigue, Varicose veins, Chronic   Flatulence, allergies or   chronic colds and flus.