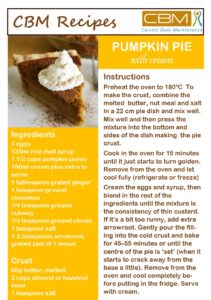 PUMPKIN PIE with cream
Try this fantastic recipe from the book I Quit Sugar for sale at our Clinic for $35.00
Pumpkins are a rich source of a number of minerals including copper, calcium, potassium and phosphorus. This nutrient dense food is absolutely choc full of vitamins and also low in calories. Great to make both Savory or sweet dishes, instead of carving the pumpkin next season we recommend eating it!
Ingredients
3 eggs
125ml rice malt syrup
1 1/2 cups pumpkin puree
180ml cream plus extra to serve
1 tablespoon grated ginger
1 teaspoon ground  cinnamon
1/4 teaspoon ground nutmeg
1/4 teaspoon ground cloves
1 teaspoon salt
1-2 teaspoons arrowroot, grated zest of 1 lemon
Crust
60g butter, melted,
2 caps almond or hazelnut meal
1 teaspoon salt
Instructions
Preheat the oven to 180ºC  To make the crust, combine the melted  butter, nut meal and salt in a 22 cm pie dish and mix well. Mix well and then press the mixture into the bottom and sides of the dish making  the pie crust.
Cook in the oven for 15 minutes until it just starts to turn golden. Remove from the oven and let cool fully (refrigerate or freeze)
Cream the eggs and syrup, then blend in the rest of the  ingredients until the mixture is the consistency of thin custard. If it's a bit too runny, add extra arrowroot. Gently pour the filling into the cold crust and bake for 45–55 minutes or until the centre of the pie is 'set' (when it starts to crack away from the base a little). Remove from the oven and cool completely before putting in the fridge. Serve with cream.