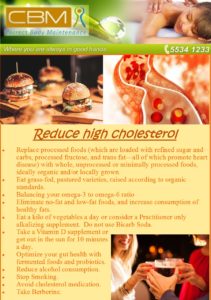 Reducing High Cholesterol
Replace processed foods (which are loaded with refined sugar and carbs, processed fructose, and trans fat—all of which promote heart disease) with whole, unprocessed or minimally processed foods, ideally organic and/or locally grown.
Eat grass-fed, pastured varieties, raised according to organic standards.
Balancing your omega-3 to omega-6 ratio
Eliminate no-fat and low-fat foods, and increase consumption of healthy fats.
Eat a kilo of vegetables a day or consider a Practitioner only alkalizing supplement.  Do not use Bicarb Soda.
Take a Vitamin D supplement or get out in the sun for 10 minutes a day.
Optimize your gut health with fermented foods and probiotics.
Reduce alcohol consumption.
Stop Smoking.
Avoid cholesterol medication.
Take Berberine.
Exercise regularly.
Brush your teeth regularly.