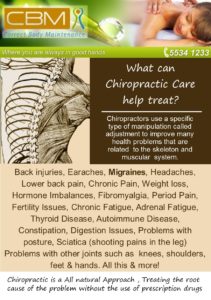 What can Chiropractic Care help treat?
Therapeutic spinal manipulation has existed for 2500 years & Chiropractic care has been around for 100 years. It is used to prevent illness and maintain and prevent the overall health of the individual. How? Well the central nervous system (the spine) controls every single     function in the body.
Back injuries, Earaches, Migraines, Headaches, Lower back pain, Chronic Pain, Weight loss,            Hormone Imbalances, Fibromyalgia, Period Pain,  Fertility Issues, Chronic Fatigue, Adrenal Fatigue, Thyroid Disease, Autoimmune Disease, Constipation, Digestion Issues, Problems with                  posture, Sciatica (shooting pains in the leg) Problems with other joints such as  knees, shoulders, feet & hands. All this & more!