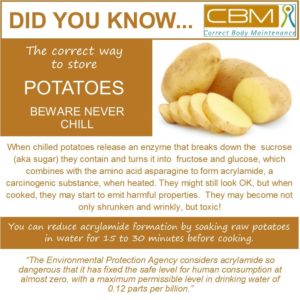 The correct way to store – POTATOES BEWARE NEVER CHILL
When chilled potatoes release an enzyme that breaks down the  sucrose (aka sugar) they contain and turns it into  fructose and glucose, which combines with the amino acid asparagine to form acrylamide, a carcinogenic substance, when heated. They might still look OK, but when cooked, they may start to emit harmful properties.  They may become not only shrunken and wrinkly, but toxic!
You can reduce acrylamide formation by soaking raw potatoes in water for 15 to 30 minutes before cooking.
"The Environmental Protection Agency considers acrylamide so dangerous that it has fixed the safe level for human consumption at almost zero, with a maximum permissible level in drinking water of 0.12 parts per billion."