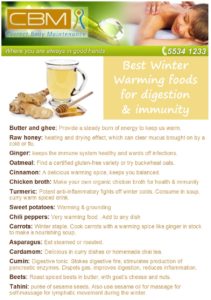 Best Winter Warming foods  for digestion & immunity
Butter and ghee: Provide a steady burn of energy to keep us warm.
Raw honey: heating and drying effect, which can clear mucus brought on by a cold or flu.
Ginger: keeps the immune system healthy and wards off infections.
Oatmeal: Find a certified gluten-free variety or try buckwheat oats.
Cinnamon: A delicious warming spice, keeps you balanced.
Chicken broth: Make your own organic chicken broth for health & immunity
Turmeric: Potent anti-inflammatory fights off winter colds. Consume in soup, curry warm spiced drink.
Sweet potatoes: Warming & grounding
Chili peppers: Very warming food . Add to any dish
Carrots: Winter staple. Cook carrots with a warming spice like ginger in stock to make a nourishing soup.
Asparagus: Eat steamed or roasted.
Cardamom: Delicious in curry dishes or homemade chai tea.
Cumin: Digestive tonic. Stokes digestive fire, stimulates production of  pancreatic enzymes. Dispels gas, improves digestion, reduces inflammation.
Beets: Roast spiced beets in butter, with goat's cheese and nuts.
Tahini: purée of sesame seeds. Also use sesame oil for massage for self-massage for lymphatic movement during the winter.